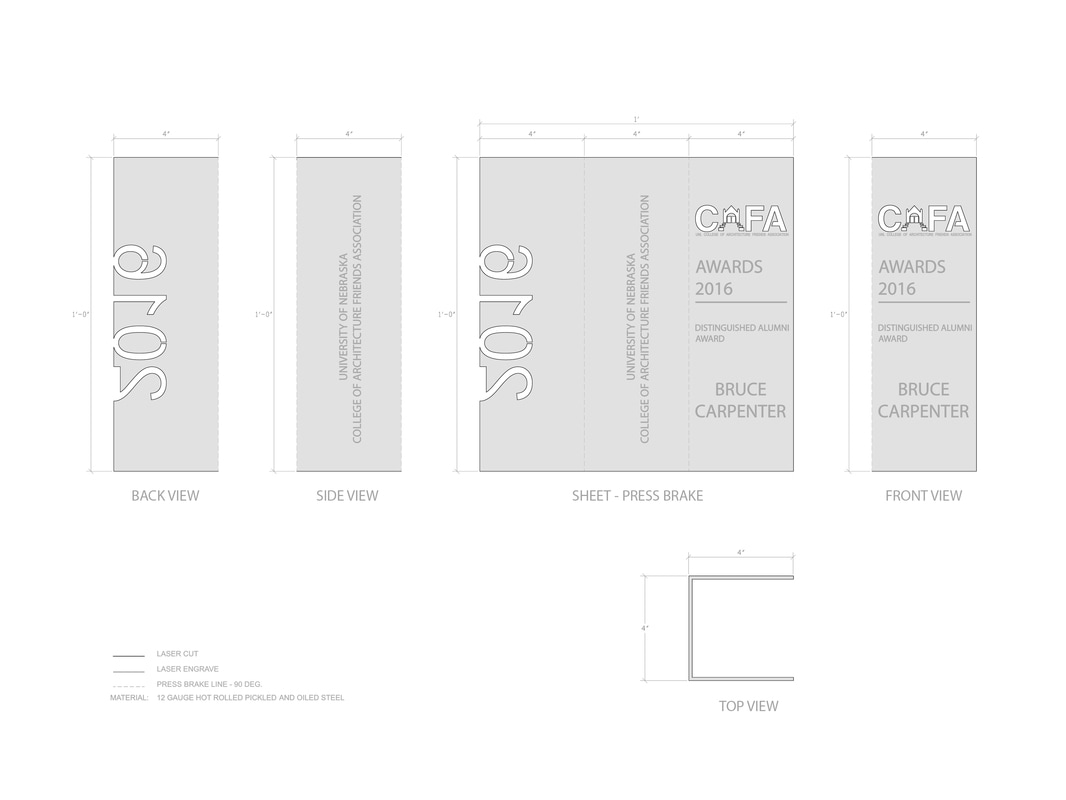 CAFA Recognition: Trophy Series
2016

The University of Nebraska-Lincoln College of Architecture is committed to instructing, researching, exploring, and promoting design excellence. However, the alumni awards and recognition pieces that it bestows on award winners and to significant contributors is anything but excellent in design. Recognizing the need for honoring achievements though a higher form of expression, a low-tech solution was designed that better aligns with the College of Architecture.

Thirteen custom recognition awards were designed for alumni award winners and outgoing leadership of the College of Architecture Friends Association (CAFA). Fabricated from 12 gauge hot rolled pickled and oiled steel bent plate with the CAFA logo and year laser cut out and laser engraved text.

Dimensions: 4"D x 4"W x 12"H

Available for purchase.
Please contact for more information.
Photography courtesy of Dan Schwalm.
Recognition:
2017 AIA Central States Region Emerging Architects Excellence in Detail, Architectural Merit Award
2017 AIA Nebraska Emerging Architects Excellence in Detail, Architectural Merit Award
2017 AIA Nebraska Emerging Architects Excellence in Detail, Architectural People's Choice Award
2017 IIDA Great Plains Chapter Interior Design Excellence Awards, Honor - Creative Use of Materials
2017 AIA Central States Region Jury Comments:
"The jurors praised the design of the actual awards elevated to a designed object - highly coveted objects we would proudly display!"
Joseph Biondo, FAIA (Jury Chair)
Jules Dingle, AIA
Theresa Thomas, AIA
2017 AIA Nebrarska Jury Comments:
"Clean graphics and 3D design make this a simple and elegant award. And shouldn't an architectural award itself reflect the high design standards of the architecture that is receiving the award?"
John Carney, FAIA (Jury Chair)
Karen Parent, AIA
Jamie Farmer, AIA
2017 IIDA Great Plains Jury Comments:
"Very elegant, innovative, and creative."
Cheryl Durst, Hon. FIIDA, LEED AP
Larry Richie, IIDA
Edwin Beltran, IIDA, Assoc. AIA